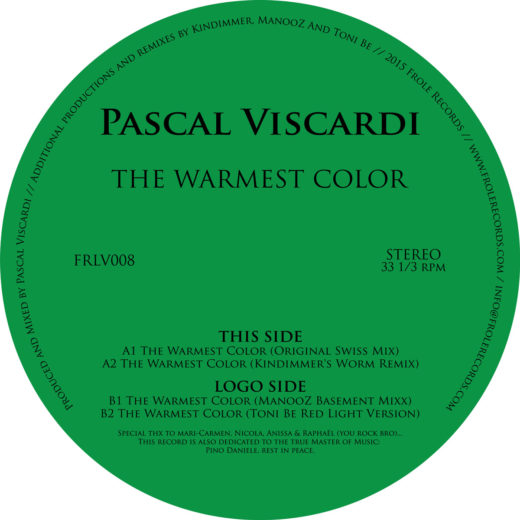 Coming from Geneva (Switzerland) but "napoletano" by heart, Pascal Viscardi is a new face in the deep-house panorama. The 31 years old fellow started his career (as a producer) a few years ago with 2 twelve inches on "The Exquisite Pain", including remixes from some heavy weights : Mark E, Session Victim and Agnès.
For his debut on "Frole Records", Pascal kicks in with a single track. "The Warmest Color" is the kind of cut you might play when the sun shows up and the bodies are ready for the slower and sexiest loops. In a totaly « Modern Swiss Vibe » (Did you say Agnès…?) this double kicked tune offers you a straight, extra-shuffled, moodygritty and dubby moment. Is this Love at first sight ?! Yes, it is…
Our new friend didn't come alone, chosing carefully his remixers to complete your wax in a most accurate way.
On the A side – together with Pascal's "Original Swiss Swing"- we're proud to present you the greek berliner : Kindimmer. If you ask Ralph Lawson (2020 Vision), the boss could tell you how talented the young dude is… At least, his record on the inconic label proves it all. Here on our release, Kindimmer offers a subtle and minimalistic approach to satisfy all your germanic house needs.
The B side starts with the german puncher Manooz, well known for his bangers on labels like "Tomorrow is Now Kid!", "Morris Audio", " Housewax ", and more… His version is a devastating big room nugget you should drop if you wanna see your dancefloor burning.
On B2 we have the third remix which comes from a really interesting outsider, our french mate : Toni Be. His releases on "Courtesy Of Balance Recordings", "Soul Notes" and "Rawthenticity" have truely convinced the genre specialists. Concerning his tune : dont look further, here you have the deepest cut of the bunch.